Activities at the campsite
Entertainment and activities of the campsite Les Castors in the Haut-Rhin in Alsace
The team of the campsite Les Castors in Alsace offers various activities throughout the summer season. Every week, a well-stocked entertainment program with a Boules tournament, a lotto-bingo evening, an Alsatian evening, a musical and dancing evening and a hike in the nature or in the Vosges Mountains.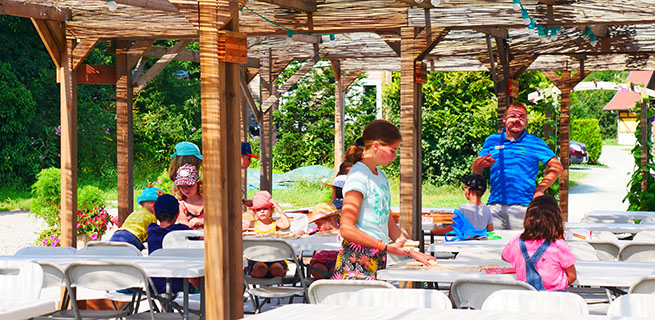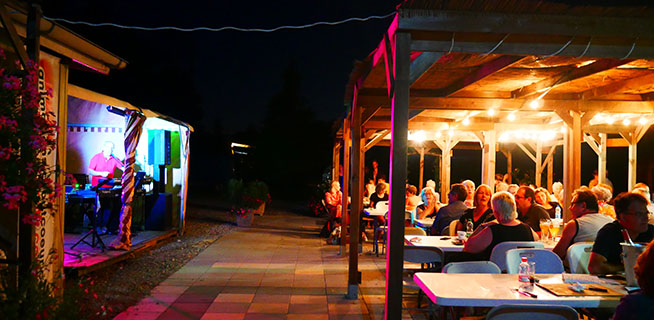 The campsite offers many activities for grown-ups and kids.
It gives you the opportunity to let off steam and allows you to organize convivial and friendly competitions.
• 2 Boules strips
• 1 volleyball pitch
• 1 soccer place
• 1 playground for kids
• 2 table tennis
• 1 fishing pond
• 1 trim trail to stay in shape throughout your holidays
• Inflatables games for children.
Swimming in natural water to relax or have fun with family or friends with water slides and inflatable games.

• 1 tree climbing park newly opened in front of the campsite (independent of the campsite)
• Organization of Alsatian evenings with traditional meals, dances and music.
Fishing in Alsace at the campsite
At the campsite Les Castors, a fishing pond is at your disposal. The fishing party is cheap. Every year our team repopulate with local fish to promote and develop the fish population of the pond, to allow you to have fun or participate in friendly competitions between fishermen.